EVENTS & HAPPENINGS
JUN

3
Starting Saturday, June 3rd, Join Larry representing Three Queens Yoga as he leads a free yoga class at the Shambles at Headhouse Square (104 Lombard Street, Society Hill) every Saturday from 9 to 10 a.m. The series will run through September 2nd. All you have to do to join in is secure your spot ahead of time here and tote your own mat with you to the outdoor class.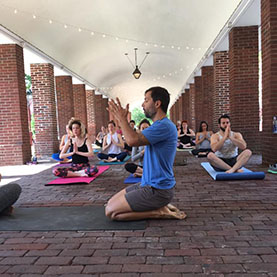 FEB

18
Saturday February 18th, from 12:00 - 3:00, SōMA Movement & Therapeutics presents MEAL PREPPING 101 with Trevor Budny of Guerrilla Nutrition. In this workshop Trevor will guide you through the meal prepping process. You'll leave with an understanding of basic prepping concepts and how to tweak them to fit your weekly & daily demands (5 Day Week), a prepping booklet, example recipes and access to Trevor via email for any questions you may have on how to apply the prepping material.
The first half of this workshop will cover basic topics related to your diet/lifestyle that will have a direct effect on you and your diet: Macro-Calories, Minerals, Stress Management, Sleep, Hydration & Setting up a weekly program.
The second half of this workshop will apply the basic knowledge to a program that is specifically catered to you: How to cook for the week, How to tweak intake for the daily changes in exercise, Recipes & Setting up a support system.
Cost: $45 – Sign up for MEAL PLANNING 101 here.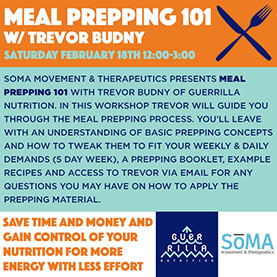 NOV

19
Saturday November 19 & Sunday November 20 we will be collecting goods and donations for Street Tails Animal Rescue. We'll also have a visit from a furry friend on Saturday form 9:30-12:00, please stop by and help out if you can!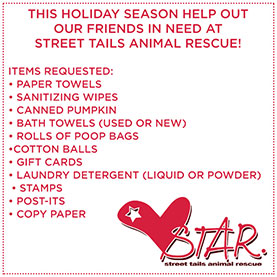 JUN

25
Join Andrew Saturday June 25th for a body weight interval training class @ the PHS Pop Up Garden at the Viaduct Rail Park for a great way to kick off your weekend, enjoy some beautiful weather & get an awesome workout!
$10 | 10am-11am | 10th & Hamilton | b.y.o.mat (some will be provided if needed)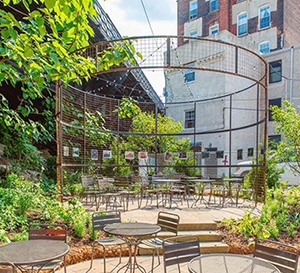 MAR

1
Getting things under way at SōMA to get ready for our official opening festivities. We'd like to thank everyone who has helped and supported us along the way. Stay tuned for more info!